Professional Meditation Teacher
Cynthia is a spiritual blogger, author, artist, entrepreneur and a McLean Meditation Institute Certified Meditation & Mindfulness Teacher. Her real name is Cynthia Calhoun, but here on the website, she writes under her pen name, Cynthia Sageleaf.
Cynthia first encountered the idea of meditation in 2002 and started her practice regularly in 2010 as part of her spiritual journey. She also discovered that meditation really helped to alleviate the stress and anxiety she felt while living the challenges of modern life. When the people around her started noticing how calm she remained in stressful situations, they started asking about her "secret." It was then that she knew she needed to share her practice with others.
Cynthia has a master's degree in the educational field and brings her love of teaching into her meditation instruction.  
Mantra Meditation
Mantras have a powerful way of healing the mind, body, and spirit.
Breath Awareness
Learn how to focus on the breath in your meditation practice. This is also mindfulness awareness.
Loving Kindness
Learn how to raise your level of compassion and self-love through meditation. This practice is great for opening the heart.
Walking Meditation
Walking mindfully is a powerful practice for those who feel they cannot sit still. This can be a great way to ease into meditation.
Gratitude Practice
Having a gratitude practice is a great way of focusing on what is going right for you. Turning it into meditation can also help you to relax.
Body Awareness
This is a great meditation practice for helping the body to relax and come into a restful, yet alert state. 
I teach locally in the Asheville area. Learning to meditate is a life-changing practice. I offer classes around the area. If you have a group of friends who'd like to learn, I can meet you for a series of classes.
It can be difficult to attend in-person classes. You can learn to meditate with me in an on-demand course. 
I know folks are busy. That's why I created an online meditation course that will allow you to learn meditation over an 8-week period. 
It's on-demand and will let you learn anywhere, anytime. 
My personal mission statement: 
To live life with a sense of wonder, always seeking understanding, expressing it creatively, fostering communication, hope and love, and helping others to see their own light.
My credo
Trust
Life has taught me over and over again that after every triumph or every obstacle, every moment and every experience, I come out on the other side a little wiser and a little older.
Life has made me understand that everything adds up to this moment in time right now. I am exactly where I'm supposed to be. All these experiences have helped me become a better version of myself. Meditation has helped me with the idea of trust because I am learning to tap into – really tap into – my inner knowing as I navigate life's clear skies and menacing storms.
That "still point" has created a haven of bliss that constantly reminds me to settle in on my path and lets me know that I can trust the unfolding events of my journey. Trust in the wonder.
Let Go
Through my practice of meditation, I have a deeper understanding that life is ephemeral. Everything is fleeting. Why, then, hold on to anything? Theory is easier than practice, but I am constantly reminded through my inner journey to let go.
Thoughts stuck in my head? Let them go.
Worries afflicting my heart? Let them go.
Do I need to follow the status quo? Let it go.
Thoughts about work? Let them go.
Wondering if I'm good enough? Let it go.
I just let it all go, become present and know that it is enough.
Let go and foster communication; help others to see their own light.
Harmony
In harmony, there is congruence, peace and friendship. I crave harmony more than anything else in life: Harmony in my body, harmony around me, harmony in my relationships, harmony for others, harmony in the world.
Meditation has made me seek harmony in all areas of my life through the cultivation of love and compassion for all beings.
In harmony, I merge with creative intelligence and express the divine gifts from which those around me can benefit.
Trust. Let Go. Harmony.
By trusting and letting go, I invite the sweet state of harmony into my life. Harmony, to express creativity, hope and love.
 I wish for all those who cross my path, who become students, and those who find themselves closest to me, a life full of trust, letting go, and harmony.
"Nunc consequat justo eget enim finibus porta. Suspendisse orci nunc, rutrum quis nunc sed, feugiat hendrerit massa. In cursus ornare sollicitudin." Antonio Compbell
"Nunc consequat justo eget enim finibus porta. Suspendisse orci nunc, rutrum quis nunc sed, feugiat hendrerit massa. In cursus ornare sollicitudin." Helena Smith
"Nunc consequat justo eget enim finibus porta. Suspendisse orci nunc, rutrum quis nunc sed, feugiat hendrerit massa. In cursus ornare sollicitudin." Isabella Edwards Compbell
Who Is This Site For?
Open-minded, spiritually independent folks who want a tribe. Typically these folks to look and read online for spiritual-related information. Generally "IN" types if we're talking the Meyers-Briggs personality type. (Really, it's a thing!)
As I learn and create on my spiritual journey, I will share those with you. I'm constantly working on books, artwork, poems, and finding information pertinent to my (and your) spiritual development – generally in the form of digital products.
I am looking to forge a life, taking elements from the religions of the far east and the best of the west and combining them into a moral code that reflects better what my heart feels: love is my religion.
Everyone is welcome here so long as there is respect, love and an eye for incorporating different practices to help you become the best version of yourself. Whatever path you're on, I want to honor it here.
What Sorts of Things Will You Find Here?
Lots of uplifting content that centers on spirituality and its cultivation.
I plan on doing guided meditations, podcasts, and videos.
I plan on creating and sharing art, poetry, prose, fiction, memoirs and other items – all in the name of inspiring others spiritually.
Sure…some of it won't be free. But, it's all in the name of giving. If you buy something on the site, the idea is that you're helping me to grow and make a living doing this.
How I Arrived at Intuitive and Spiritual
It's been a long, but interesting journey.
I never knew what I wanted to be when I grew up.
I started worrying in earnest about this when I was a junior in high school and having to decide on colleges and what I might study.
I am fascinated by people and what makes them tick, so I studied anthropology.
But it wasn't quite right.
After college, I tried being a ski instructor, an optician, a bookseller, a teacher in high school, a teacher in elementary school, an afterschool director. These days, my part-time day job is in marketing (I learned about that while learning how to build this, and other websites) while I work on Intuitive and Spiritual the rest of the time.
I'm a spirit-preneur, y'all!
I'm also working on my meditation teaching certification so that I can begin teaching others how to meditate and lead retreats starting in July, 2018.
And this blog is where I fit. I'm an INFP. "IN" types tend to be spiritual. That's my very unscientific analysis.
I love exploring my own spiritual and personal development.
One day, I sat down and decided to write out my own mission statement. It took an hour and a half, going through many iterations – around 112 of them! I wrote everything that came to mind, gently dismissing everything that didn't fit exactly.
Finally, I wrote a phrase that changed everything. I felt the zing of intuition, knowing that what I'd just come up with was my defining moment:
To live life with a sense of wonder, always seeking understanding, expressing it creatively, fostering communication, hope and love, and helping others to see their own light. 
Thus, the idea for this site was born.
Meditation
I've been meditating on and off for over ten years while forging a path of spirituality. In the last several years, I've rarely missed a day to meditate.
I've devoured so many books on spirituality and meditation, they tell me "OM" at the library.
Haha. Only kidding. Sort of.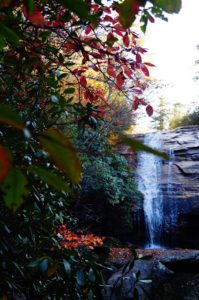 You know what I want to do?
I want to share that path with others.
I want to spread love, hope, peace and art and beautiful things to help you become the best version of yourself.
And it's a journey, you know?
I invite you on this journey – to take what you need and make it part of yours.
I promise to be myself here, too. Where I like shiny, sparkly things and I'm open to practices, ideas, people and anything else that makes the world a better place and it feels good and right and wholesome.
Becoming a Spiritual Independent
I'm open to all religious traditions, practices and ideas. My philosophy is to take the best of them to forge a spiritual path that imbibes wisdom and tolerance, ideas and actions that allow me to become the highest version of myself.
That is pretty much the definition of someone who is "spiritually independent."
I grew up in a Christian tradition, and while I respect that, I also have a deep appreciation and admiration for other prophets and peacemakers: Deganawida, Gandhi, Martin Luther King, Jr., Mother Theresa, Buddha, Lao Tzu, Harriet Tubman, Patanjali, and Castaneda, just to name a few.
I'm quirky. I like strange (by "normal" standards) things. I often falter, question, and don't know where the hell I'm going.
I love studying, experiencing, and incorporating all these ideas from around our world. My current favorites are Eastern and Native American Philosophies.
At some point, a few generations ago, I had a great-great grandmother who was Navajo and Cherokee (so they say – I haven't confirmed this, yet).
Whatever the case, the Native American Indian way has always called to me.
In 4th grade, we went on a field trip to Acoma, New Mexico and I still remember the awe I felt at being on top of the mesa and looking at the people who lived there, their beautiful adobe churches, their beaded crafts and intricate God's eyes and was forever affected by the peace and sense of love that I felt.
I bought a pair of beaded earrings that day to commemorate my trip there….
Incorporating Art, Writing, Photography and…Love
When I was younger, I wanted to be an artist. But it never quite worked out. I was living in the Southeast, but was totally inspired by the American Southwest.
It was a wee bit difficult to appeal to a crowd that favored pastoral scenes with clapboard churches in the background.
Even younger than that, I was deeply Catholic. I sang in the choir, was an altar server, taught Sunday School. I was into it, you know?
While there's nothing wrong with organized religion, I woke up one day and wondered why I was doing all that.
I concluded that it was probably not to please myself, but to please others.
I embarked on a journey that took me from Catholicism to checking out the Methodist Church, a Presbyterian church, and even became a Unitarian for awhile.
And not that there's anything against the Unitarians, but I often felt like I was attending a college philosophy class rather than a service to help me to grow spiritually.
Later, I found a spiritual community at an Episcopal Church. I went there for awhile, but I was always open with people: I'm on a lifelong journey to discover the truth. If something no longer resonates, I move on to something else.
Lately, I've been thinking about joining a Sangha, not to become Buddhist, but to find out what it's about and take the lessons to incorporate into my own spiritual lexicon.
I'm on an evolving journey. Some days I just want to dance to beautiful music that speaks to my soul.
Other times I decide that I need a road trip to visit sacred places. I've tried a lot of things, read a lot of books and haven't been to enough places.
But here at Intuitive and Spiritual, I get to write about spirituality, create art for it, write non-fiction and fiction, and more. You'll get to see it all here – I'll share it all.
It's all an effort to craft my spirituality, and hopefully help you with your path.
I'm constantly learning.
I'm constantly evolving – as we all are.
I hope the things I share will benefit others who haven't found their tribe.
I love people. Especially those who love to beat their drum differently. And dance and spazz and twirl and sparkle at the same time.
Let's be a tribe together.
Love and Light,
Cynthia